MacVector is the best PCR Primer design application on macOS. It has many innovative primer tools to make designing, analyzing and cataloging your primers or oligos easy. Here are a few typical workflows.
Designing primers
Amplifying a gene
You can design a set of primers to amplify a gene in as little as three mouse clicks.
Open your sequence.
Open the MAP view, and click on a feature.
Go to ANALYZE > PRIMER DESIGN/TEST(PAIRS).
Click OK.
You will get a ranked list of the best primer pairs to amplify that feature along with a spreadsheet table, that you can copy and send to your oligo synthesis service.
Design a single targeted primer with a tail.
QuickTest Primer tool gives great flexibility for designing primers with tails or mismatches.You can slide your primer along your template to find the optimal sequence. You can add mismatches and view their affect on any CDS features. You can add restriction sites too and view "one out" sites.
Select a 20 bp region around the location you want your primer to be.
Click ANALYZE > QUICKTEST PRIMER.
Slide the primer along your template until the oligo is optimal.
Add a restriction site or mutation in the optional tail.
Hover over a green (or red) putative restriction site to view the change to your sequence.
Double click on that putative site to add to your primer. Watch how the coding is changed.
Click Add to Database.. to save your primer.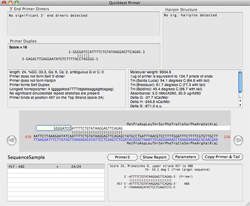 Testing Primers
How do I test a pair of primers?.
You can map pairs primers against your template to see how well they would amplify your target.
Open your template sequence
Go to ANALYZE | PRIMER DESIGN/TEST(PAIRS).
For the left primer click USE THIS Primer
Type or paste in your forward primer
Repeat for the reverse primer
Click TEST
Storing primers in the Primer Database.
MacVector's Primer Database allows you to save and retrieve regularly used primers. You can also scan sequences for potential primer binding sites using Primer Database Search. The tool comes with a starter database of primers, but you can use existing subsequence files or import primers from Excel.
To save a primer from QT Primer to the Primer Database.
Open ANALYZE > QUICKTEST PRIMER (INDIVIDUAL)
Design your primer
Click ADD TO…
Give the primer a name and add a comment. Click OK
To save a primer from Primer Design to the Primer Database.
Open ANALYZE > PRIMER DESIGN/TEST (PAIRS)
Design your primer pair
In the spreadsheet right click on a primer
Choose ADD PRIMER TO DATABASE
Give the primer a name and add a comment. Click OK
To use the Primer Database Search:
Open your sequence
Select ANALYZE > PRIMER DATABASE SEARCH
Choose parameters and click OK
Design a primer to match an existing primer from the primer database
The Primer database allows you to store your own collection of primers. You can design new primers to match regularly used ones.
Open your template sequence
Switch to the Map tab and select the region you want to amplify.
Go to ANALYZE | PRIMER DESIGN/TEST(PAIRS).
For the left primer click USE THIS Primer
Use the drop down menu to enter the existing primer from the primer database
Click OK